The highest 90% cashback for forex traders
Trade as usual and receive extra income with us!
Register for rebate
90%
Cashback in each Broker
Cashback
Cashback even on losing trades
24/7
Professional support
4+
Payment methods including USDT
Supported brokers
All Brokers featured on our website are reliable and tested by us. Choose the Broker from the list of supported Brokers and trade with the maximum gain from our rebates and discounts!
Easy steps to receive rebate
Short registration on our website
Registration is free and simple. Create your Premium Rebate personal area to manage your trading accounts for rebate.
Choose your Broker for trading
Choose the Broker and open your trading account through your Premium Rebate personal area or add your existing account according the instructions.
Trade as usual and receive your rebate
Get paid for every trade that you make. Increase your trading results receiving cashback from Premium Rebate.
Register for rebate
How does it work
When you open account in one Forex Broker with our link, Forex Broker starts to pay us affiliate commission, because we attract clients. That is the part of spread that every trader pays to Broker opening the order.

In our turn, we share with you 90% of this income and that is called forex rebate or forex cashback.
Please be informed, that your trading conditions and spreads remain the same.
And it is free to sign up for rebate with us!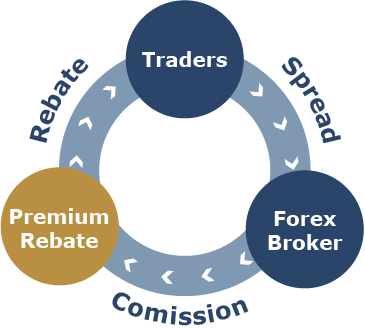 FAQ
What is Forex cashback?
Forex cashback is a real money that you receive from us to your trading account in Forex Broker. Actually, it is a part of spread that you pay to Broker for each trading order. Forex Brokers share with us a part of this spread cause we attract clients. In our turn, we give you back 90% of our income.
Is it free to join the cashback/rebate program?
Yes, it is absolutely free. Moreover, we will pay you for each of your trading operation.
Does the trading conditions remains the same?
We guarantee that all commissions, spreads and trading conditions remains the same.
Is this service free of charge?
Yes, it is absolutely free. Moreover - we pay you real money for your each trade.
Does participation in Premium Rebate program influence on my commissions and trading conditions?
No, we guarantee that all conditions and fees remains the same for you. You just receive extra cash from us.
How I will receive my cashback?
You will receive your cashback on your trading account. After that you can withdraw this money with all methods that Brokers provide.
My account is still pending for verification. What shall I do?
Usually, it takes 2-3 business days for your account verification. We confirm the changes of account status by email. If you don't receive an email forom us for 4-5 business days, please contact us and we will check.
We suggest you the highly professional consultation about rebate and assistance.
Leave us your WhatsApp or Telegram and we will contact you shortly!
Thank you! We will contact you shortly